Keeping your company's data safe is a key responsibility for all IT managers. Today's Internet speeds now make it possible to keep your server and workstation backups offsite in a secure private backup vault. SecurIT from ePic Net will protect your data by keeping secure encrypted copies online. It is hassle-free, easy to install and configure, completely secure and includes agents for all leading server databases..
Whether you want to keep your critical File and Email servers safe, or your roaming corporate laptops safe, ePic Net have a cost effective intelligent backup solution that can help you.
Throw away your backup tapes, and enjoy a fully automated reliable solution! – Never miss a backup again.
With SecurIT you can securely restore any file, document, email, database or even whole system anywhere from any point in time.
Our technology...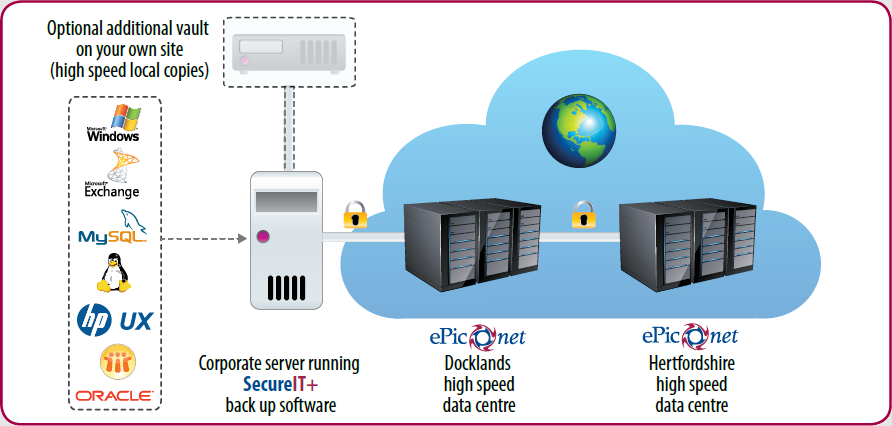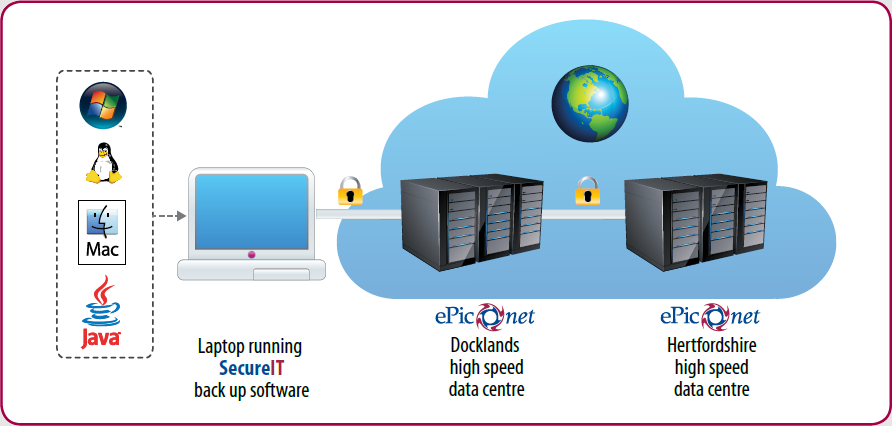 How it works...
Simply install our wizard driven software, answer a few questions about files and systems you want to keep safe and you are ready to go. Our software will compress and copy your important files to our high speed UK based datacentres.
Our software automatically and silently examines each file and only copies the 'bit level' differences since the last backup. This minimises backup time and amount of information needed to be transfered over the Internet. Easy to use controls allow you to specify how many versions or amount of history you want to keep.
Restoring a lost or old version of a file is as easy as double clicking on the SecurIT icon, browsing to find the file(s) you require, then pick the version you want (by date or time) and voilà! the file will be restored back in the state you want.
We also provide a secure web interface to access your files from backed up anywhere.
Full support for...
Windows Server 2000, 2003, 2008 – all versions of Small Business Server

Microsoft Exchange 2000, 2003, 2007 and 2010 – full system PLUS optional user mailbox agent

Active Directory
Microsoft SQL
MS SQL

Open Files
Continuous Data Protection
Lotus Domino/Notes
Oracle
VMware
Is it secure?
All data is kept in an encrypted vault at our secure UK datacentres. Only you have the keys to unlock the vault – even we cannot access your data!
We replicate the SecurIT vaults in realtime between our 2 different UK datacentres, doubly ensuring your data is kept safe.
As well as keeping 2 copies of your data, you can you can optionally keep a 3rd encrypted copy on your own premises for rapid restore and extra piece of mind.
Scheduled backups make a secure connection to our datacentres using SSL encryption. This means that your data travels over the Internet in the same way a secure website works –no complex setup required!
Receive daily backup reports confirming and detailing your backup success. Our software is trusted by thousands of people worldwide and proven time and time again to be there if or when you need it.
Not that you will need it as our software is so simple... but our consultants are available to assist with every aspect of using SecurIT.
Your pricing options...
Setup costs are as low as £25 per workstation and £100 per server!
Database agents are Free of charge (except Microsoft Exchange at £1 setup per mailbox)
Then simply pay 25p per Gigabyte per Month for the volume of data we hold for you.
Give it a try...